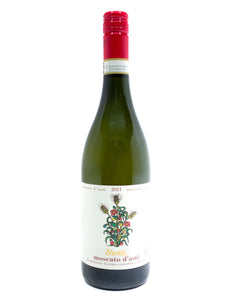 100% Moscato bianco
Moscato d'Asti from Italy, is regarded as the best version of this sweet and slightly sparkling wine. 
What makes Italian Moscato d'Asti so highly regarded is partially from it's origin in the world-renown Barolo wine region of Italy; but perhaps moreso because of the quality and character of the Vietti family's old vines, and the skill and wisdom that is passed on through of four generations of winemakers.
This Moscato d'Asti has an intense aroma of ripe yellow fruit (peaches, apricots, pears), floral notes (rose petals) and refined exotic spices (freshly cut ginger).  The sweetness is balanced with a crisp, and refreshing acidity.

Perfect as an apéritif, brunch wine, and cocktail ingredient (such as our Pear & Moscato Spritzer).  
750ML  |  5% ALCOHOL BY VOLUME  |  2021