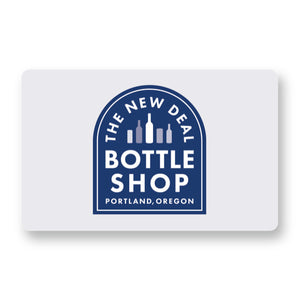 Gift Cards can be used towards in-person purchases at the New Deal Bottle Shop at our distillery in Portland's Central Eastside, open daily, from noon-6pm. Gift cards can also be used for online purchases of Curbside Pickup orders.
Gift Cards purchased online will be emailed to you as an electronic gift card. If you would like to give the gift card to another person, please be sure to forward that email to its end user.

Physical gift cards can also be purchased in any denomination by walk-in customers at the Bottle Shop. If you would like to exchange your electronic gift card for a physical gift card, you can do so in-person in the Bottle Shop.

*Please note: Gift cards are non-refundable.