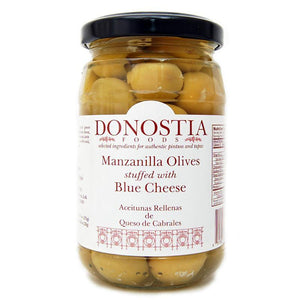 Manzanilla Olives Stuffed with Blue Cheese 7.58oz
Blue cheese is one divisive cheese. But, if you find yourself reading this chances are you are resoundingly in the pro-blue cheese camp. Welcome. The blue cheese you'll find stuffed in these manzanilla olives is a cabrales from the Picos de Europa mountains in Asturias, Spain. A handmade mixture of cow's milk seasoned with goat's and sheep's milk matured over several months.
The olives themselves are handpicked in Andalusia and naturally fermented and cured Sevillian style. Perfect in your Gin No.1 or New Deal Vodka Martini!