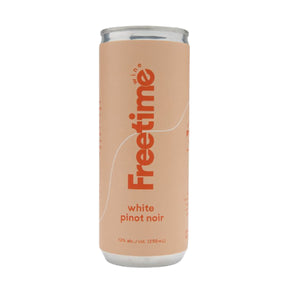 A lovely peachy-hued white wine made from 100% organic pinot noir with crisp and refreshing notes of cherries, stone fruits and citrus.  Super juicy and succulent- you're going to wish you had a bottle and not just a can. Might be a good idea to buy two cans!
White pinot noir is a term that is interchangeable with a very pale rosé that did not spend any time macerating with the skin of the grape. 
Fermented and aged in stainless steel. 
This is officially the best canned wine our wine buyer has ever had!
250ML  |  12% ALCOHOL BY VOLUME  |  2021  |  HOOD RIVER, OR